Benjamin Simon
Staff Writer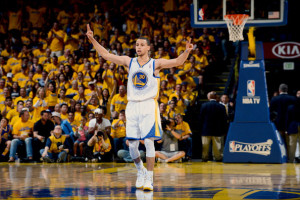 As the regular season ends, the NBA will announce their annual awards for the most valuable player, top rookie, best defensive player, most improved, and sixth man and coach of the year. Here are my predictions on who will win these honors:
MVP- Stephen Curry
There are multiple candidates for this award, but I think Steph Curry is the "most valuable player". He is averaging nearly 24 points, 8 assists, and 2 steals. Not only that, but he is shooting 48% from the field, despite attempting 17 shots per game. Wow. Curry is a prolific scorer and maybe the best shooter ever. On the defensive end, Steph isn't anything special, but he doesn't to be with Klay Thompson beside him. Curry is only asked to score, and he does just that. The "splash brother" has led the Warriors to 48 wins and only 12 losses.
Rookie- Nerlens Noel
The Sixer center has been fantastic as of late. He has consistently and gradually improved every game. During the first half of the season, I would have given this award to Andrew Wiggins, but not anymore. Noel's constant and impressive improvement has convinced me that he is the best rookie in the league. During November, Noel averaged, 7.6 points, 5.9 rebounds, 1 block, and 1.8 steals. Throughout February and March, He has averaged nearly 11 points, 9 rebounds, 2.5 steals, and 2 blocks. All these statistics exemplify how he has improved over the past couple months, and why he should be the rookie of the year. I feel as though the only person close to challenging the Sixers' center right now is Andrew Wiggins. When I look at the Canadian native, I also see some of his numbers skyrocketing as of late. Since the all-star break he has averaged 20 points. But he hasn't done much else. His rebounds have decreased to 3.9 per game and his assists have stayed stagnant at 2. If the rookie of the year battle went merely off of points, Wiggins would definitely win. But it doesn't.
Coach of the Year- Frank Vogel
What? How do you propose that a team with only 28 wins and a sub .500 win percentage can take this award? That's probably what you're asking yourself right now. But I want you to notice how much the Pacers have improved. This team had an 11 game streak where they only won two games. That terribly tainted their record throughout much of January. But since then, the team has won 12 out of their last 15 games. I also hope you look at how well they have performed for not having their star player, Paul George. This team is built around George, so when he fell injured during the summer, the Pacers were written off. Frank Vogel didn't buy that and rallied his team to the opportunity to compete in the playoffs. Not many coaches could make the turnaround he did.
Most Improved- Hassan Whiteside
Half a year ago, Whiteside was in China putting up monster numbers. The 7 foot center out of Marshall, who was drafted in the early second round by the Sacramento Kings, played only 1 game in his first season in the NBA. In the following year, he played just 18 games. And everyone thought that was the last we would see Whiteside. But two years later, he's back in the NBA, nearly averaging a double double with 11 points and 9.8 rebounds. He has made a fantastic impact around the rim with 2.4 blocks per game. Whiteside has found away to be a significant force in the NBA, despite his prior spotty play.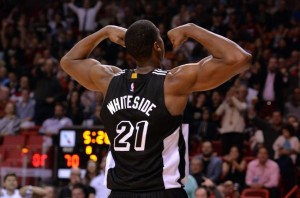 Defensive Player- Klay Thompson
Throughout the offseason, the Warriors were bombarded with trade requests for their starting shooting guard, Klay Thompson. They declined and declined. They got great offer after great offer. But they declined and declined. Why? Not because he averaged 18 points. Not because he shot 41% from three. They kept him because he is an elite defender. Thompson is relied upon to cover the other team's strongest guards, allowing teammate Stephen Curry to save his energy so he can be effective on the offensive end. Even legendary college coach Mike Krzyzewski noticed. During the summer, when the USA national team was practicing, Krzyzewski said, "Everyone had talked about his offense, but he has been consistently excellent on the defensive end. The fact that he's tall, he's been able to play defense on the one, two, and three. He's become our most versatile defender." Thompson is also 6'7, with a wingspan of 6'9. Therefore he is able to stay in front and often contain the other teams strongest players. If he weren't so good on the defensive end, he wouldn't be sitting in a Warriors uniform today.
 Sixth Man- Louis Williams
After his worst year since his first two seasons entering the league, Lou Williams looked like he might be on the decline. Williams averaged a mere 10 points and only played in 60 games during the 2013-14 reason with the Atlanta Hawks. But he rebounded this year, signing a contract with the Toronto Raptors, propelling himself to a career high 15 points per outing in just 25 minutes. Although he has shot the ball worse than in years past, Lou Will has been a super consistent scoring force off the bench. The former Sixer has been fantastic through his first games during March, averaging 17 points, shooting 43%, and adding 4 assists. I don't see any reason why he slows down, because Lou plays in stretches. Look for him to finish out the last 20 games strong and clinch this award.