By Harper Leary and Adrie Young
More Than an Interpreter
As the only person in the SLA building who is permitted to enter with a face shield, she may have stood out to you around school. Interpreter Alex Miller is a recent addition to the SLA community. She has the unique position of interpreting for Sophie Zawislak, a freshman who is deaf.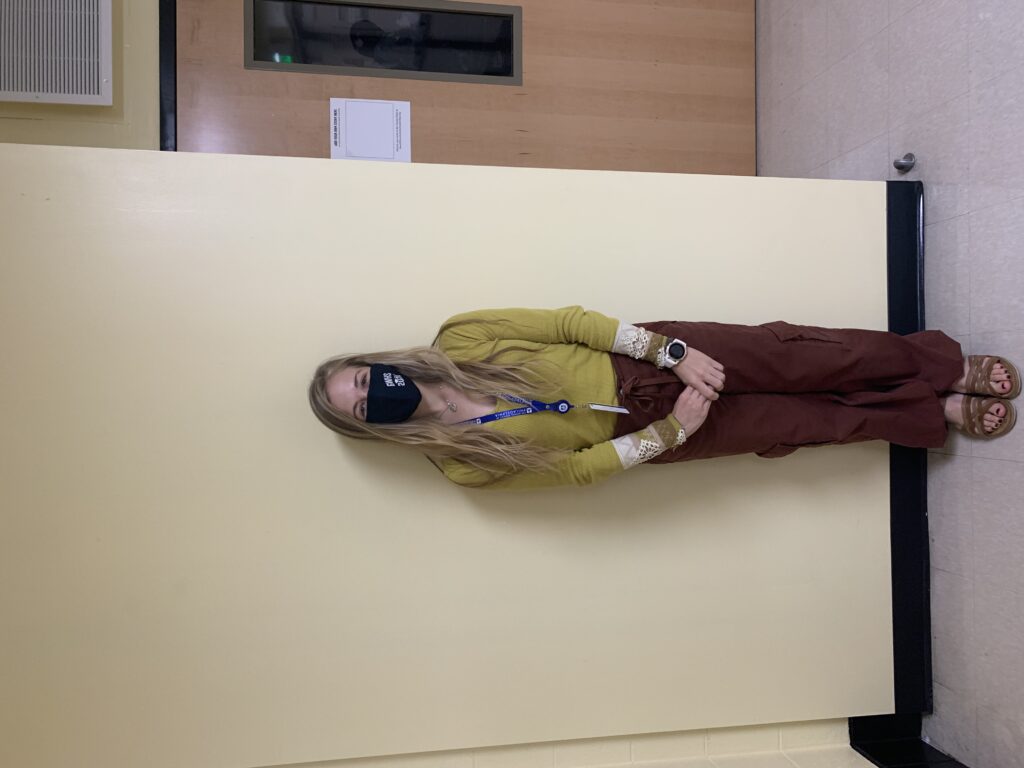 "I really enjoy having her as an interpreter, we have a great relationship with each other and it's really nice to have someone who you have a bond with especially when you are seeing them every day," Zawislak said.
While her job is an uncommon one, her hard work doesn't go unnoticed. She accompanies Zawislak to all of her classes and translates practically everything; comments from her peers, instructions and lessons from her teachers, and more. Ms. Miller provides the crucial connection for Zawislak that makes her learning possible.

Early Life and Education
Ms. Miller grew up in Bucks County. Her childhood best friend was deaf, and she learned to sign because of her. Ms. Miller's parents also thought it was important for her to learn a second verbal language from a young age. She started taking Spanish classes before school on Wednesdays when she was six.
These early experiences encouraged Ms. Miller to develop a love for language. She attended college in Bloomsburg, PA; Bloomsburg University is one of the few schools in the state that has sign language interpreting, which interested her. Ms. Miller has a bachelor's degree in science and American sign language interpreting, a bachelor's degree in Spanish language and culture, and a minor in linguistics.

As an Interpreter
Ms. Miller has interpreted for college classes, high schools, hospitals, and even a podcast where she translated Spanish into ASL.
She said that one of the hardest parts of her job is the physical exhaustion from signing all day long. Interpreting can also be mentally taxing, because she is constantly switching back and forth between English, ASL, and even Spanish.
Ms. Miller also mentioned how difficult the social stigma around the deaf community can be.
"Sometimes people don't really know what to do with me, or they don't let me in the room, so there's a lot of advocacy that I have to do in my life, to be like, your patient has to communicate with you, and they can't hear you, if I'm not there, how's that gonna happen?" she said about interpreting for doctor's appointments.
Even with all of the difficulties of being an interpreter, Ms. Miller still loves her job and how she can connect people together. She mentioned the lightbulb she sees go off when working with someone and how special it is to be a part of that.
"It's cool because [Ms. Miller] helps me talk with [Sophie], in ways that are not just lessons. Normally with kids, I'll tease them and stuff like that. It's cool that she can translate those things too, so I can make faces at her and tease her and stuff like that," English Teacher Mr. Kay said about working with Ms. Miller and Zawislak.
A World Traveler
Ms. Miller has a passion for visiting foreign countries.
"I love going and learning about cultures, learning about how different people do things; I just love it—going outside of the big sites and seeing how people really live. The world is so big; there's so much to do, there's so much to see, there's so much to learn," she said. She's already traveled to almost thirty countries, and still wants to go to Antarctica, see the Northern Lights, and visit every continent.
As a fluent Spanish speaker, Ms. Miller took the opportunity to spend a year abroad in Argentina near the Paraguay border. There, she taught English to kids, many of whom were already bilingual.
She emphasized how important it is to study abroad. "I honestly cannot stress enough if you have the opportunity to study abroad, do it! As long as you can, as much as you can, anywhere you can. You will never get another experience like that again."
While Ms. Miller travels for enjoyment and cultural exposure, she also finds it important to give back, which is why she has done international service.