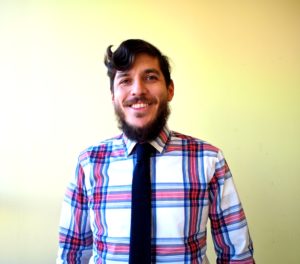 Meymey Seng
Staff Writer
With a goodbye, there's a new hello. Victor Hernandez is Science Leadership Academy's  new Algebra 2 and Computer Science teacher who says he is from "everywhere but nowhere". He came from teaching pre-calc and Algebra 2 at Esperanza Academy for three years, which is a big adjustment for him, but he's looking forward to working it out.
"He's very confident and knows what he's talking about. A creative, thoughtful, and kind person," said Co-Principal Aaron Gerwer.
Positive Energy
Something that immediately struck Mr. Hernandez was SLA's energy when he first came to EduCon a couple years ago. All of the teachers, students, and other participants were very enthusiastic, which is something that he has not seen in many schools.
"There was an energy here that's noticeably absent in a lot of other schools so it really intrigued me once I started finding out why people were interested I realized that I had that in common with them and I was like oh that seems like a place where I would get a lot out of it."
Teaching Style
He plans to keep the curriculum in Algebra 2 similar to past years since it has gone so well. However, he plans to bring in projects that he has given his past students while incorporating them in a way that would best fit SLA.
What does he want kids to learn? He would like students to "have a context of a new concept before they start learning skills because if you don't know where a skill fits in outside of this classroom, it's very hard to keep track of."
For Computer Science, he will modify the class based on what he knows from programming and also on the different students that he is working with, because everyone has a different pace.
"Something new that Mr. Hernandez did that I like is letting us put assignments in a table folder rather than just coming around to collect it," 10th grader Harlem Satterfield said. "I can't imagine having a different Algebra 2 teacher!"
Background
What does coming from "everywhere but nowhere" mean? Mr. Hernandez was born in Colombia, then went to Saudi Arabia, to California, to Massachusetts, and now lives in Philadelphia.
"I've lived a lot of different places, but none of those are places I'd call home," he said. He was always going to new places and haven't lived anywhere consistently but now he has a wife and a son in a house he can call home in South Philadelphia.
Life Before Teaching
Before going into teaching, Mr. Hernandez did many other things. When he was fourteen, he was a foreign exchange student in a school in Southern California. In college, he was a radio DJ. After that, he got a job as a software engineer at Apple but later decided to get a teaching certificate.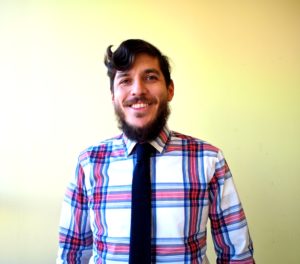 Music, Movies, and Extracurricular Activities
Aside from teaching, Mr. Hernandez is a music fanatic. He listens to a huge variety of music such as underground rock, punk, late 80s and early 90s hip hop, jazz, latin music, and more. In fact, he used to be a radio DJ in college which is exposed him to a lot of music. Not only does he have a passion of finding new music, he has a similar passion towards both old and international movies.
He would watch way back to silent movies to the transition of having voice which would be in the 1930s, especially American Hollywood productions. Other types of movies he enjoys are French movies, post World War 2, Eastern European, and so much more. Although, he is not a big fan of the new movies that has recently been coming out.