By Meymey Seng
Staff Writer
What better way to start off spring break than to go on a trip to Cuba? Hosted by Spanish Teacher Melanie Manuel, Science Teacher Stephanie Sessa, History Teacher Pearl Jonas, and Secretary Diane LoGiudice, this field trip took ten female students to the long-embargoed country. This was a nine day trip from March 29th to April 6th.
Cuba and the United States have not been on very good terms because of the 60-year-long embargo. Recently, parts of the embargo have been lifted due to the efforts of previous president Barack Obama, which made SLA's trip possible.
"It's such a different country and there's not another place like it that we could actually access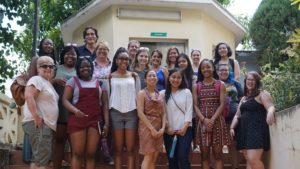 ," said Ms. Sessa. "It's one of the very few communist/socialist countries left".
The trip's focus varied, including elements of science, history, and of course, Spanish. Other than that, some of the focuses were agriculture, medicine, business, and education. Going to Cuba, the girls had the opportunity to interview and talk to people of different professions. After gathering information, they would be able to compare and contrast how things worked between the different countries.
Cuba was very different from Philadelphia. Ms. Sessa's pointed out the differences in architecture as her favorite thing. "They have a lot of these bright buildings but then these bright buildings would be next to buildings that are falling down and decrepit, and that comes from a variety of different things," she said. "So even though everyone's supposed to make the same amount of money, because it's a communist society, there is still some discrepancy in that."
Cuba also made a strong impression on the students.
"I enjoyed watching the Cuban people going about their day. How their life is so different from ours yet the same. I also enjoyed the first street food and we had churros. Also just being able to explore, having that freedom and trust from the teachers, and to really immerse myself into the Cuban culture," said Senior Chhievling Seng. "I also really enjoyed asking questions, whatever it was I was curious about. Really being able to connect and have them share things about their life was my favorite part."
"My favorite memory was when we went to this farm in the more rural part of Havana. The owner started a farm where he grows his own plants and raised his own animals. He was giving most of his products to restaurants in the city. The goal of it was to show that farming and agriculture is important and that more people should start their own farm to provide for themselves," said Sophomore Lily Rivera. "He wanted to start a program where he would bring kids to his farm to teach them, starting from teaching children to adults. We can't rely on chemicals, we need to be able to farm for ourselves and I think that he is taking the steps into the right direction to do that well."
The trip was the initial idea of  Ms. Manuel, who has been to over thirty spanish speaking countries, including every Spanish speaking country in Central America and South America (except for Paraguay).
For Manuel, the trip holds a special place in her heart.
"My favorite moments were when our SLA girls were laughing, smiling, asking questions, and experiencing the joy of travel in a place as special as Cuba. We danced, we sang, we learned together, we had great conversations. I had an incredible time," Ms. Manuel. "This trip was probably the highlight of my 9 years at SLA. I had wanted to organize a trip to Cuba for my own students since my first visit to the island in 2003. 14 years later, it was a teacher dream realized."
This trip was such a success, it has inspired the teachers to create a course called International Cultures. The class will be tied to a trip that allows juniors and seniors to have similar experiences. The destination is still to go to a Spanish speaking country and they will be looking for a program that best fits the different topics they want to learn about.