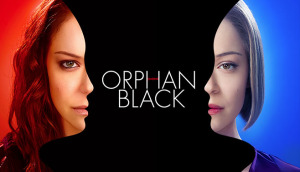 Sean Morris
Staff Writer
"Why hasn't Tatiana Maslany been given an Emmy yet?"
This is a frustrating, yet typical response to the BBC's intelligent, smartly written, award winning series. The reason being is that Tatiana Maslany is not playing one, or even two characters- the current rack of characters has been up to 12.
Granted some of them are only heard of, die fairly soon or are only briefly seen but still leave an impressive 6. And each of these 6 are fully rounded developed characters with individual ticks, personality traits- all leaving Tatiana a wake of strong performances from great characters in a single episode that most actors and actresses would dream their whole career of having.
The plot of the show primarily revolves around a street-wise mother Sarah Manning who witnesses a woman who looks just like her, Beth Childs, commit suicide by stepping in front of a train. Taking her items Sarah begins to live in Sarah's life as a police officer, only to discover that there are more that look like her, or more actually that she, and the rest are all clones. Among them include gun- toting soccer mom Allison, bisexual- dreadlocked biologist Cosima, creepy, yet adorable Ukraine assassin Helena and the ice cold Rachel Duncan. Some are allies, some are enemies but they all want the same thing- answers.
It's worth noting the special effects team who are able to put multiple clones seamlessly into the same scene and have them interact vocally and physically and to emphasise how much they are able to do, in one episode they had a dance party with most of the clones in the same room.
However there are still plenty of great characters outside the clones; like Sarah's sassy gay friend Felix, Ms. Siobhan, a woman who helped raise Sarah and Felix that seems to know more than she's saying, and plenty more. There's a number of secret societies and conspiracies wrapped in the mix but explaining too much more would be spoiling the plot.
However I will say that there are multiple questions wrapped in the conspiracy and with each layer unravel leads to even more questions. It's able to be funny, heartwarming/ breaking and fascinating to watch, with each episode leaving you wanting more. It's especially good in it's second season with its several layers being brought to its original characters, new fascinating  ones being introduced, some tantalizing answers to it all and one giant twist at the end that will leave you speechless and wanting for more.
Recommended if you like:
Doctor Who- the British dealing with wacky science.
Buffy the Vampire Slayer- a great leading female character with humorous dialogue in the face of darker situations.
The third season is due to premiere in the Spring of 2015 but until then you can try to catch up on this vimeo channel are the first 6 episodes to get you started.