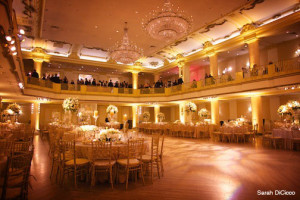 by Leah Kelly
Staff Writer
The prom season is a crazy and busy one in the lives of high schoolers, especially if it is senior prom. While boys tend to be more reserved with how much they spend on the event , the stereotype is that most girls go all out and spend tons of money to make sure that their night is "perfect". This includes purchasing an elaborate dress that they will only wear for one night, paying to get their hair and makeup done, manicures, pedicures, shoes, jewelry, purses, the list goes on and on.
And so, the question that many people end up asking is: Is it all worth it? How much money should actually be spent on the prom experience?
I have a lot of thoughts on this topic.
First of all, I don't think that it's fair for me to judge people who spend a lot prom, even though I don't agree with it.
For many people, especially in Philadelphia, I find that prom is a largely cultural phenomenon. Depending on your family or neighborhood, some groups  tend to have huge sendoffs with big balloons and their whole family present, while others meet up with a small group of friends, snap a few pictures and head to the prom venue. One is elaborate and expensive, while one is small and frugal.
The flip side to all of this pomp and circumstances is that tensions run high while people are preparing for the big night.
I think that prom is not nearly as much about how you look as it is about having a good time with whoever you're with. To me, the company I share is much more important than the material things: a dress, shoes, makeup, etc.
Therefore, my financial breakdown for senior prom this year looks much different than I'm sure other people's budgets do. I am barely spending any money on a dress, shoes, hair, makeup and things like that. I borrowed a dress and shoes from two different friends, which means that I spent no money in that department. I'm having another friend do my hair and I am doing my own makeup. The only part of my appearance that I am spending money on is $10 to get my nails done.
The things that I am spending money on are all of the activities that my friends and I are planning for that night and the following day: a hotel room, gas money to get to the beach and spending money for a day in Wildwood.
Overall, I think that it's important to look nice and to dress up for prom which requires spending at least a little bit of money, but I think that the main point of prom (especially senior prom) is to enjoy those who you are with, which is priceless.