Jayla Wright
Copy Editor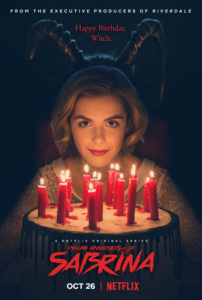 In the past, I would spend my weekend mornings slipping out of my warm covers to search for my coveted remote that would turn my TV on an episode of Sabrina the Teenage Witch. Now, I'm still spending my mornings watching the Spellman family but instead, as a reincarnation of the original.
Netflix's Chilling Adventures of Sabrina is the latest reboot of the 90's classic.
I first heard of the Netflix reboot in September where I learned one major fact about the show, it was going to be darker than its whimsical counterpart. This was not what I expected when I saw the show was coming back. Instead, I assumed it would keep the same cheery mood as the original.
That aspect of the reboot concerned me, as I wasn't much of a fan of horror… or dark themes… or more like to watch my movies without being scared, essentially. However,  when I started the show there were plenty of bloody scenes that made me flinch, but after a few episodes, I have gotten used to it.
As for the plot, it takes a while before it really kicks off.
The first few episodes of the show are held back by its fast pacing, which makes the episodes' events feel overwhelming and occasionally meaningless. Oftentimes, early episodes would reveal something about Sabrina — such as her character being trained for a greater purpose. and follow it with a scene exposing a plot twist involving her friends. This combination would make any revelations about side characters feel unnecessary to the overall plot.
Only about halfway through the season does the show start to be great.
Sabrina's character growth is what really drives the show. Sabrina makes decisions that would have me yelling at my TV, like when she refused to listen to her aunts. I would only get more frustrated when she somehow couldn't hear me through the screen and ended up doing something I heavily disagreed with.
As the show goes on, she really pushes the limits of who she is and what can she do. One of the main themes of the show is power versus freedom. Sabrina is constantly told she can only have freedom and no power and vice versa. This theme truly sets Sabrina's development in motion.
The idea of freedom and power connects to its other theme of feminism and the idea that women can only have freedom or power in society, never both. Just like in the original show, Sabrina has to learn to balance both her girl and witch-hood. This duality in the reboot is a metaphor of the idea of women balancing their freedom and power.
The reboot goes deeper than the original in that it tackles social issues through the metaphor of witches.
Although it had a rough start, The Chilling Adventures of Sabrina turned into a show deeper than its original.