By Jenn Wright
Staff Writer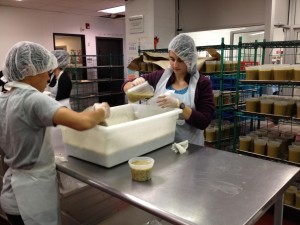 Clear your schedule, because new groups are hitting the scene this fall at SLA — and many of them are courtesy of this year's senior class.
Senior Capstone projects are the final project every SLA student must complete in order to graduate. As a culmination of four years, it's supposed to draw the core values and be a representation of an individual student's learning.
For some students, this leads to them starting a club. While many proposals haven't been officially approved yet, these groups intend upon making them into their projects.
Capstone projects are often the result of students turning their outside experiences and passions into a school project. For some students, that means getting others to do what they already love.
Senior Sam Lovett-Perkins has founded the SLA Community Involvement Club (CIC). "I want this club to be a unified group of people that all care about their environment," he said.
Following the buildOn program being discontinued at SLA, Lovett-Perkins spoke to wanting to keep the energy alive for volunteerism within the community.
To complete a Capstone project each senior must have a mentor, whether in school or out. Interests overlap often between teachers and students that generate collaborations like Senior Sasha Sapp's Book Club with English Teacher Meenoo Rami.
"…[the project] allows students, parents and teachers to come together and share their love of books and community," says Ms. Rami, "It just made sense that it would work great as a Capstone."
In an unusual double interest, two Model United Nations groups are forming. Both hoping to attract members, Seniors Heather Campbell and Allison Patterson are working on separate Capstones.
Although very different from one another, they share a common aim–making the SLA community a more cultured place.
Senior Chelsea J. Smith's Latin Dance group has already begun practicing. She has a solid group attending, but she knows that it can be hard to keep members involved. "I can't force anybody to come to practice," she acknowledged. She plans to be strict about attendance.
Being fall, the outlook for each looks good. Lovett-Perkins hopes to continue legacy for CIC by asking underclassman to try out leadership roles.
As for the Latin Dance group, Smith says that it could go on past this year "…if people have the commitment it takes."
Lovett-Perkins said of volunteering, "I want people to be there because they are interested and that's the best way to get people to come to things and be motivated," then qualified, "self motivated."
Each Capstone club hopes to extend the joy and learning to the students who sign up.