Upon reading about the skating rink set to open on November 30th at The Piazza at Schmit's I was happy that I had a new venue to skate in the upcoming months, maybe even take a few dates to the rink as well. My joy was short lived as I found out the next day on Twitter that the rink will be artificial ice–essentially a 5,000 square foot cutting board as an Inquirer reporter said. Granted–I've never skated on an artificial rink, but I'm not looking forward to it either. I want to be freezing cold on that ice, I want to get frostbite on my hands when I fall and I want my jeans to get soaked when I lay on the ice for too long. I don't see how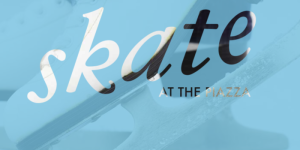 any of that is possible with plastic ice. In the rink's defense, admission is five bucks even with one dollar skate rentals. In addition to the rink, the 20,000 square foot courtyard will, in it's usual fashion, also simultaneously hold festival style vendors and musicians.
I'm keeping my hopes up that the rink to be finished winter 2014 in Dilworth Plaza will be a good one.