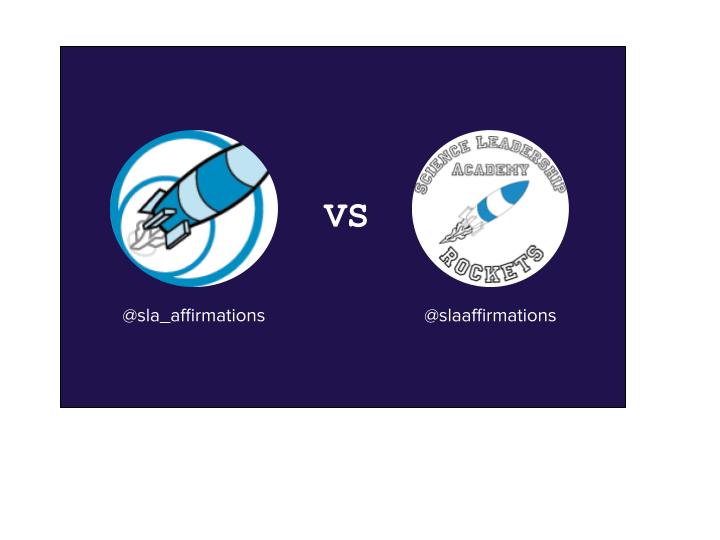 Anouk Ghosh-Poulshock
Staff Writer
In mid-November, the first SLA Affirmations Instagram page was created: @sla_affirmations. The next day, another one was created: @slaaffirmations, both run by different people.

On the surface, these accounts have the same intention and goal. So why two? Wasn't one enough?

The first account, @sla_affirmations, was created by two freshmen, one of whom was Pax D'Alba. They created their first post on November 16, a post about the long and brutal walk to the sixth floor.

Many of their posts were about the day to day complaints about their time in school, such as the stairs, vending machine, and the posters around school. Both accounts were inspired by the Philly affirmations page, which started posting in early November. Ever since then, many schools created affirmation pages, such as Central and CAPA.

"I started off by following a bunch of people I knew [who] went to SLA and they followed back. Then [we] and the followers started sharing posts, more people started finding it and following it," said D'Alba.

When asked about the second affirmations page, D'Alba was blasé. "It came after us and was posting similar things so it almost felt like competition, but I didn't really care about it," they said "We tried to stay away from harmful things, especially since we said who we were, and they posted more risky things. Whatever they did was their choice. It was just frustrating but then I didn't really care."

After only posting for a few days, the account stopped posting. D'Alba says the future of the account is still undetermined, but there will most likely not be any new posts.

The second account, @slaaffirmations, had its first post on November 17. They consistently posted for a few days as well, but stopped posting after about a week. The owner of the account has chosen to keep their name anonymous. Their content was similar, and about the same topics.

"I saw that the other SLA affirmations were run by freshmen and I thought that their affirmations weren't that good. My friends and I had a ton of ideas for affirmations so I decided to make a separate page," says @slaaffirmations.

This account does not look like it will be sticking around for much longer either. They don't have the time or motivation to run the account anymore, but they enjoy seeing the other unique accounts popping up.

Both accounts wanted to stay anonymous, since they were afraid of getting in trouble with the school. In addition, both thought they could make better content, which is the reason for multiple accounts.

"I think the time of SLA affirmations has passed," says sophomore Josie Barsky, "They were really popular for a hot second, but they've both stopped posting so there's not much left of them."

"Some are cool and funny. I think some are or could turn into something very toxic and harmful which is not good," says D'Alba.

While none of the accounts ended up turning into something harmful, fear of getting in trouble drove both away. With both accounts inactive, it has left plenty of room for new SLA accounts to take the spotlight. The most popular, @sla_sleeps, is an account that compiles posts of students sleeping. There are also multiple SLA meme accounts, some new and some old.