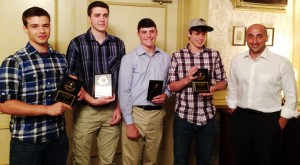 By Heather Campbell
Staff Writer
The banquet was held Wednesday June 4th and awarded baseball players from all over the school district for their performance this season.
"The banquet was rather enjoyable, even though we couldn't hear half the speakers." said Senior Nicholas Manton. "It was simple, which was swell for me."
Manton was presented with the 'Cy Young Award,' Pitcher of the Year, for going 5-0, throwing a No-Hitter, a 1-Hitter, and only giving up 2 runs throughout the whole season. He finished the season with an ERA of 1.125, WHIP of 0.4375, 21 Strikeouts, 1 walk, 6 Hits, and only 2 Earned Runs.
In addition to receiving the 'Cy Young Award,' Manton will be starting in the annual All-Star Game for graduating Seniors alongside teammate Abraham Musselman.
The 'Silver Slugger Award' was awarded to Junior Ethan Reese for leading the SLA boys baseball team with 21 hits, 20 runs, a Batting Average of .657, and an On Base Percentage of .695.
Freshman Kevin Courtney received 'Rookie of the Year,' having a Batting Average of .640 and an On Base Percentage of .736, as well as leading the team in Doubles (5).
Courtney is described by Varsity Coach Douglas Herman as also being lights out as a Pitcher and Catcher.
The "Triple Crown" was presented to Junior Jeffrey Schwartz for this year's performance, having the Highest Batting Average (.858), Most Home Runs (4), Most Runs Batted In (32), and an unheard of 2.77 On Base Plus Slugging.
"It is particularly difficult to do because normally the guys who hit al the Home Runs and get the RBIs don't also hit for Average." commented Coach Herman, "Jeff simply dominated."
In addition to being the first player in modern D-Division baseball to achieve such a feat, he was also named Team MVP for SLA.
The 'Roberto Clemente Award' was presented to Senior Jordan McLaughlin for dedication to the Baseball program at SLA.
"Over the course of his time at SLA, Jordan has consistently been a leader and has always put the team ahead of himself." stated Coach Herman.
The award is named after Roberto Clemente, a well respected Ambassador of Baseball in the 1960s and 1970s who died in a plane crash in 1972 while delivering earthquake relief supplies to Nicaragua.
McLaughlin will be returning to SLA next baseball season, filling in the position as an Assistant Coach.