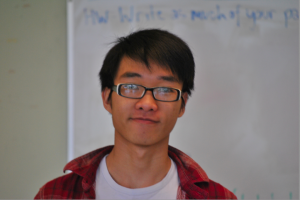 By Heather Campbell
Staff Writer
This year, Senior Bach Tong has a free ride to college.
For the past three years, one student in each senior class at SLA has won The Gates Millennium Scholars Program scholarship. Tong joins Shareesa Bollers '10 and Davonte Martin '11, who were the first two winners.
The scholarship is awarded to 1,000 exemplary minority students each year. The recipients are able to use the scholarship at any university or college that they wish to attend. On top of that, the money is used to cover all academic costs that the students may encounter for the duration of their undergraduate studies.
Bach had first learned about The Gates Millennium Scholarship during his sophomore year. But it was his advisor, Spanish Teacher Melanie Manuel, that nominated him in the fall of 2011, giving him the chance to apply.
The application process for the scholarship had fourteen different extensive steps, including a recommendation and essay questions. Helen Gym, who Tong works with at South Philadelphia High School as a community organizer, provided the recommendation for the application. All components of the scholarship are used for the Advisory Council to better understand each of the applicants.
"I think I wrote at least 15 pages," Bach commented when asked about the essays. The essay questions were based off of academic capacity, community service and leadership. Each essay had a character limit of around 7000.
Tong definitely felt the crunch as the application due date approached.  "I didn't think that I could win — the scholarship deadline was the same as lots of other colleges," Tong admitted.
As a senior, Tong had multiple application deadlines to meet for applying to colleges which he was focusing on during the application process of The Gates Millenium Scholarship. But Tong succeeded in impressing the Advisory Council, one day, he came home and found a big envelope from the scholarship in his mailbox.
"It's awesome," commented ILP Coordinator Jeremy Spry.
Tong will be attending Deep Springs College, an alternative two-year college located in California. Deep Springs is actually tuition free, but Tong will rely on the scholarship for his travel costs and other fees.
After that, he is unsure of where his Gates Millenium Scholarship will take him — but he is thrilled to be saving the money.