SLA Goes Chrome
by Jesse Shuter and Zoe Schwingel Sauer
Staff Writers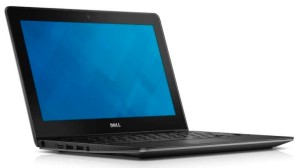 Photo courtesy of http://liliputing.com/2013/12/dell-launches-chromebook-11-for-education.html
After seven years of only using Apple computers, on December 11, 2013 it was announced that Science Leadership Academy (SLA), will be officially switching from the school classic of Macbooks and Macbook Pros to the Google Chromebooks. Is it for the better?
SLA Principal Christopher Lehmann says "Potential limitations are outweighed by possibilities" when talking about the switch.
There are a few reasons for the switch.
One is that most of the work students do is already through apps in Google Suite, like Drive and Gmail.
"We use the google apps for so much of what we do already… so much of what we do is already in the cloud," Mr. Lehmann said. "I think that learning new systems, learning some programs that we have traditionally used, what is out there for the chromebook is going to be important."
One of the things that makes SLA different from other high schools in Philadelphia, is it's mandatory technology class freshman year. In the class students are prepared for a high school tenure with laptops. The class reviews both ethics for technology as well as a background of knowledge for the laptops and how they work.
When asked if her course would change at all with the new chromebooks instead of Macbooks, Technology teacher Marcie Hull had this to say, "I teach an ethics course more than a technology course, and that stuff isn't going to change, that stuff is eternal."
Another reason is economic. The new computers SLA will be receiving are just under $300 a piece, compared to an approximate $1500 for a MacBook.
In addition to this lower cost, the first few years of laptops will be free. "We are entering into a partnership with the Dell Foundation. They are making a $700,000 grant over three years." Mr. Lehmann said.
This partnership offers a big financial relief to the school, which used to raise close to $180,000 dollars a year to buy a class set of MacBooks.
In the 2012-2013 school year, however, SLA faced a $220,000 deficit just for its regular budget. The money that had already been raised for laptops went to closing this gap and saving teachers' jobs.
The partnership will provide money to purchase laptops for three years. This includes machines for both the original SLA campus and the new Beeber campus — about 250 laptop per year total.
Mr. Lehmann said. "That will pay for laptops for both campuses, a partnership coordinator for SLA-Main, a tech staffer to be shared across both campuses, and professional development."
The school is also helping Dell in this partnership. "We are setting up a Center of Excellence for and with Dell, so that Dell can showcase the kind of teaching and learning here at SLA and show how Dell can work with schools and districts to create more innovative schools."
Adam Garry a representative from Dell agreed that the mutual benefits of this partnership would help both parties. "The hope is that SLA will benefit from the exposure and conversations that will be generated through school visits from other educators and participation in events" Garry said.
"SLA should also benefit from the use of world class technologies and resources.  The plan is to support the growth of the learning platform at SLA and engage teachers in collaborative conversations and resource building with educators around the country".
Upperclassmen, who will have their original computers, don't care much about the switch. Freshmen, however, have a lot to say about it.
However most freshman were a little disappointed at the news. Freshman Jared Bauer confirmed these feelings, "I was very disappointed. Even at family night they told us we had MacBooks. To be honest I was a little pissed off, because I've used a chromebook before and it's just a web browser."
The Laptop Model that is being given to SLA is a new model of Chromebook. SLA is one of the first places to experience the new model. It is the first ever Dell Chromebook to be released, it will be around $300. The partnership with Dell is occurring largely because of the excitement over the new laptop and the recognition that Dell will receive.
Because these Chromebooks are new and are coming to SLA fresh off the production line, they took an extended period for the laptops to arrive here. Therefore yet another deal was reached and right before Thanksgiving the freshman of SLA were given the choice of either a Dell laptop or tablet to help them with their schoolwork in the interim.
When given the decision many freshman were excited, yet confused. When making his decision Bauer said, "Tablet, because of portability. We're only going to be able to use google chrome anyway. I regret [the decision] because it has lagging issues, and limited websites. We had to make a rushed decision, since we only had 2 minutes".
The partnership is hoping that the Chromebooks will be released in early 2014 although no official date has been set, up to this point in time.
This transition is also notable because Apple named SLA a "distinguished school" five years in a row. Now the the school is switching to Dell products, obviously they do not expect to be honored by Apple this way in the future.
"We probably won't be receiving those anymore," Ms. Hull says laughing.