Ryan Harris
Staff Writer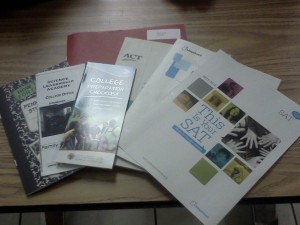 On December 15, SLA hosted its 4th annual College Night for the Junior class. The event was met with a sizable amount of SLA parents and students.
College Counselor Karina Hirschfield hosted the event along with representatives from colleges such: Penn State, Rutgers, Columbia, Bryn Mawr, Villanova and a special guest of Karen Campbell, Dir. of Young Alumni Support Programs at Girard College.
At the beginning of the event, students and their parents were given a red folder containing information about SAT/ACT prep, student aid, and more importantly, the date of each student's college planning meeting with Mrs. Hirschfield.
"It's an opportunity for parents and students to listen to admissions counslers, learn about college admissions, words of advice about the process in general. They also get to hear about trends and special criteria some colleges have." stated Hirschfield about the event.
Students and parents also participated in an activity to compare the students college ideas with the parents college. Hopefully trying to find any compatibility with student and parents to ease the college admissions process.
Immediately following that were multiple presentations on Naviance, SAT/ACT, and everything to consider in the college admissions process (i.e. room, location, books, etc.).
Naviance being the website that allows high schools such as SLA, to give their students a much better grip of the college planning process.
"It should be a little more self-explanatory, but it's really helpful and interesting when you understand it." replied Isabella Tognini about Naviance.
Many SLA students were really excited about the College Night, since they were getting the rundown of everything that was coming their way in the upcoming months.
"I liked getting to know what's going to happen in my future like my college meeting with Mrs. Hirchfield." said Ruben Burenstein.
Hirchfield also talked about Junior News, and Senior News which are filled with many other ways for SLA students to influence their college choices like college visits to SLA and future college fairs dates.
"I'm excited about it but I do have a fear of not being accepted, I think it would be amazing to get accepted to my college of my choice." replied Tognini.
Other students replied with the same sort of attitude.
"I'm not excited about applying but excited about getting responses." stated Burenstein.
As all high school students know the college admissions process can be an extremely difficult process, but thankfully the student and parents of SLA have events like Junior College Night and Mrs. Hirschfield.
"I hope this put people mind's at ease. This doesn't need to be a stressful process. Use your school's resources. That's what they're there for," said Campbell.