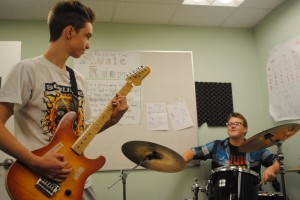 By Abe Musselman
Staff Writer
Anyone who spends their time in SLA's second-floor library will tell you that it may not be the best spot to try to catch up on missed homework. Far from a quiet room to squeeze in a few peaceful moments of reading, the library is often a hub of activity, and is the place the school's music enthusiasts call home.
Inside the larger space of the main library is a small music room where several students gather during their lunch to play instruments, record for podcast projects or simply to practice alone. Even students who previously had no interest in music might find themselves stepping in every once in awhile.
In spite of several previous attempts at a small music elective, SLA remained without a certified music teacher for its first five years as a school.
One of SLA's founding members, librarian Paul Scaer, was a certified music teacher and taught music to SLA's first graduating class. Unfortunately, the class was canceled when he left after being diagnosed with cancer and eventually passed away. SLA could not afford to fund any kind of music program until the 2010-2011 school year, when the school hired librarian and music enthusiast Joshua Newman, who agreed to teach a small music elective.
Following massive district-wide budget cuts early in 2011, Mr. Newman was unable to retain his position and the school was once again left without a music teacher.  Unwilling to let the school go another three years without organized music, Mr. Lehmann hired a new music teacher with the intention of jump starting the program.
SLA's first full-size, curriculum driven music class is now entering its second year as an elective. The class's forty students are divided by skill level between X and Y bands. They spend most of their time learning as a group in the main space of the SLA library. Music teacher Ben Diamond is excited for the year ahead. He feels as though SLA's music class represents the diversity of its students.
"One thing that's changing is that we have some more students doing jazz music." he told SLAMedia, "There is a great range of tastes among the members of the class."
He thinks the class is ready to take on new challenges that will allow them to express their creativity by, "developing some original arrangements that combine various styles and grooves in innovative ways."
Mr. Diamond's electives aren't the only to get involved in SLA music this year. SLAcappella, an after-school club formerly led by alumna Maxime Damis ('12), is entering its third year. The group meets on Thursday afternoons on the fifth floor and functions similar to other high school and collegiate a cappella bands, performing unaccompanied renditions of popular songs.
While the club has previously limited all of its activities to the school, current group leaders Juniors Victoria Yarbrough and Gaberielle Santaniello have some new plans for this year. "We have a senior who wants to collaborate with us by singing to the elderly and patients in hospitals," Santaniello said.
The club, run almost entirely by students, is getting serious about performing new material this year, but its chief concern has always been to "create something that we can share with people, and just have fun (Santaniello)", a familiar sentiment among SLA's art crowd.
In addition to SLA's a cappella group, a new after-school club is available for students who are unable to participate in the music class, but are still interested in learning the basics of music theory. On Tuesday afternoons, an outside instructor named Harvey Price holds a beginner's music class in the library centered around a familiar Jamaican instrument called the steel drum.
With resources like these at their disposal, it comes as no surprise that SLA students are always busy creating, even outside of class. Though the music program might not be as intensive as those of other high schools, SLA students will never find themselves without a way to get involved in something creative.