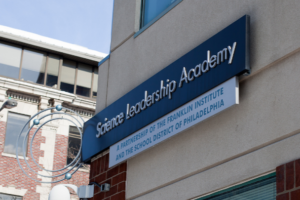 by Maddi Extebeste
Staff Writer
Many Juniors, Seniors, and some Sophomores at SLA know that the school doesn't own the building and that SLA might  be "moving" in "a few years." What they may not know is our contract with the owner of the building ends in June 2018. Current sophomores could be the first class graduating in the new building since  this year's Juniors would be the last class graduating in present SLA.
The Options
Rumors about moving aren't new; that's why two other articles have been written in past years (2011 and 2016) about the same topic. Both articles are quite similar, especially in quoting  Co-Principal Chris Lehmann's answer to the question "what would you do if SLA lost the building?"
Lehmann has consistently presented three different options: renewing our lease, moving to an old school, or buying the building.
SLA buying the full lease of the building with the School District of Philadelphia would $40 million, "which would become cheap in the long run but would be very expensive in the moment", as Lehmann was quoted in 2011.
Renewing our lease would also be expensive and not permanent at all. The last option, moving to a building which has already hosted a high school, would probably require renovations at a big cost to SLA. One of the options was moving to the empty Vaux High School, but that building has already been sold to Big Picture by the SDP. Although these possibilities are well-known, there is a lot of uncertainty.
For example, Marcie Hull, Technology and Art teacher, said "I don't really know about which possibilities we have if we move from this building. I don't even want to know about it because this topic gets me anxious (laughs)."
This year, Lehmann said he didn't consider the idea of buying the building, but that they're still having conversation about extending the contract to be able to stay. He also explained that in the case they lose the building, the School District of Philadelphia would try to find another building in Center City or close by.
Changing the location of the school wouldn't only have economic consequences. Its present location makes commuting more or less balanced, makes it easier for Freshmen to access the Franklin Institute on Wednesday afternoons, and doesn't favor any specific neighborhood except Center City.
As Junior Mekhi Granby says, "If SLA moves it's going to be more difficult and longer for students to commute, this also meaning less hours of sleep and less efficiency when they're working at school."
Freshmen Opinions
It's the Freshmen's first year here so they may not mind moving. As Ms. Hull said, "it's going to be easier for them, having spent less time here."
However,  many of them are unaware of the potential move. Freshman Kai Bradley-Gutiérrez de Terán did not have a positive reaction to the news.
"I don't think this is a good thing because it is really unlikely for the school to find another suitable space in the same area. By our school being in Center City, it allows for kids from all over Philadelphia to have easier commuting and easier access, making this school more diverse" He said. 
"And we shouldn't forget Freshmen's Wednesdays at The Franklin Institute. We can get there walking with our peers from SLA but if we move it will also be more difficult to go."
Which option would impact the community the most?
"If we finally move it is going to be a big change because this building is like our second home", declared Lehmann.
If SLA Center City moves to another building, it  would also have a big impact on students across grade levels.  Juniors and Seniors know the SLA community well and "it would be devastating for them" according to  Hull.
She also explained her point of view as a staff member who has been there since "the beginning" of the school.
"I don't really want to move. It is going to be a difficult transition for everybody and a sad loss, but nothing is going to be bad because we're not going to let that happen. After some months everyone is going to get used to it. It's neither good nor bad, just different."
That's the key word of Hull's description of that new environment: different.
Lehmann added that, "The SDP understands how important is this building for us, and they also want the best interests for the teachers, students, and families. That's why they are trying to find a building with similar characteristics or even better so they can be adapted to  our needs. And if it had a gym it would be perfect!"