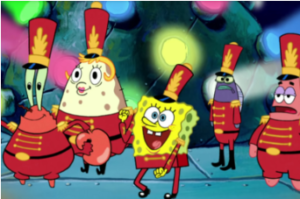 Photo provided by Billboard
Lauren Nicolella Staff Writer
The Eagles weren't in the Superbowl this year, so by default I wasn't interested in watching the game. I texted my friend Sadie to let me know when it was coming on, because based on my Twitter timeline there was no action throughout the first two quarters.
Earlier in the day I had seen a post saying how Maroon 5 were going to be singing Sweet Victory, the song featured in the Spongebob episode Band Geeks. It's where a dysfunctional band group pulls together a last minute performance for Squidward to show off against his rival Squilliam Fancyson. I was interested to see how it would be translated into a full performance of the song, and didn't keep my hopes up too high.
I heard the notification buzz on my phone and clicked to Facetime so I didn't waste any time trying to text out my response. The second quarter ended, the commercials came to a close, and it began with Maroon 5's lead singer Adam Levine performing their hit songs. I wasn't into the performance that much, it seemed a bit boring, but I will admit that they have a lot of long-term hits that will always make me sing along.  
Suddenly, it started. "Shut up, everyone be quiet!" I yelled out of instinct.
Three minutes into the performance, and Squidward shows up on the screen and I let out the biggest gasp. The quality was amazing and I greatly appreciate the time to make a special part just for the halftime show. I stared at my tv screen in awe, and felt everything come crashing down once I started hearing Sicko Mode playing after the 15 second tribute.
The Bikini Bottom Grand Orchestra was shown, with the famous red and gold outfits from that episode. It quickly moves into a meteor shooting down onto the earth with the starting instrumentals of Sicko Mode.
I don't think I've ever been so confused, yet satisfied. I'm glad that they acknowledged that fans wanted this to happen, although it wasn't what everyone expected. I think when there is such a big fanbase for football, it seems almost impossible to have a creative input like that and it's impressive that Spongebob fans were able to get something.
Was it what we wished for? Not exactly. It's just hilarious that it transitioned into one of the most popular songs of 2018 by Travis Scott. I hope that this power of the people can translate into bigger and better things for the NFL, because it seems like it is a step forward to push some new ideas for future halftime shows.