Annisa Ahmed
Staff Writer
Who says hard work doesn't pay?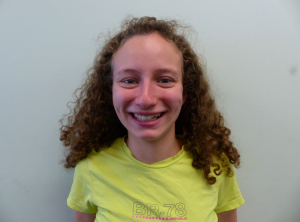 Throughout the entirety of this year, Senior Michelle Torelli has worked diligently with one big goal in mind: to go to college and take on as little debt as possible.
Her wish has been granted. In late March, Torelli was selected for the Drexel Liberty Scholars Program.
The scholarship is need-based, providing aspiring students from low-income families in the Philadelphia region with a chance to attend Drexel University at a fraction of the regular cost.
She first learned about the program from Counselor Karina Hirshfield. From the start of the application process, Torelli stayed upbeat.
"I had a positive attitude," she said. In her essay, she talked about her future and what the program would mean for her, to help make her family proud and set a good example for her younger siblings.
After advancing to the next round, she prepared to for the interview thoroughly. "I had mock meetings in the college office," noted Torelli. "It helped to keep me calm and focused."
In addition to practice trials, there were many individuals who gave her the proper support along the way. "My parents, my uncle, Amy [a college office intern], Ms. Hirschfield , Ms. Dunn, and Heidi, my neighbor were all so willing to jump whenever I needed a hand," she said.
Her Advisor Douglas Herman is unspokenly added to the mix. Prior to the big day, Torelli came to him, confessing that she was worried that her boisterous nature would hinder the possibility of getting the scholarship.
Herman smiled and when she asked why, he told the truth. "Let it shine," he encouraged. "Let them see that a prim and proper personality isn't always what they are looking for."
Jokingly, Herman told to break out her sick moves during the sit-down and although she declined going that far, the Liberty Scholars must have taken notice of what she had to offer.
Torelli intends to study to become a Chemical Engineer and eventually get her Masters Degree. Getting this scholarship is essentially a pass her to complete her studies and become what she has always wanted to be.
"Drexel was my top choice," she said, "and now, I have the chance to go there and take out as little loans as possible."
Torelli joins SLA Alumnus Ali Ahmed '12 as a Liberty Scholar, who is now a freshman at Drexel studying computer science engineering.
Contact: aahmed2@scienceleadership.org