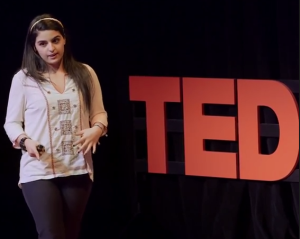 Dylan McKeon Staff Writer
A major belief that many students of SLA hold is the idea that standardized tests are an inaccurate judgement of a student's intelligence. In 2014, this idea was presented to to the world through a TED talk presented by SLA senior Nikki Adeli. In her TED talk, Nikki talks about how most schools currently have a large focus on standardized tests rather than teaching students to become citizens and leaders.
"The value and purpose of the schools is to grow a citizen" Nikki said in the speech, "and this citizen is to be a multitude of personalities, it's if someones open-minded, knowledgeable and someone who in the long run can give back to her community."
To change this situation, she is working to link students with small businesses to give students a bigger role in the community. The project would allow students to volunteer or intern during the school week and help small businesses in Philly.
Unfortunately, Nikki also sees big barriers to her work.
"The way I see it is not the way we are going, as the majority of our funding is to testing and to make sure testing comes into play"
She points out that a major problem with standardized test is that they creates competition, rather than building students into leaders and citizens.
The biggest challenge as she puts it "is the negative mentality a lot of Philadelphians have regarding young people".
She argues that "the most important thing for students to realize is that they have the capability to be the leaders of today, not always the "leaders of tomorrow" like many people say".
This isn't all Nikki has done in her four years at SLA. She has done much to advocate for youth educations, serving as a Youth Commissioner to Mayor Michael Nutter and also has Head Concierge for EduCon.
Currently she is looking for colleges that offer her a similar sense of public policy and have strong connections to the community.
Her Ted Talk can be found here