By Nomi Martin-Brouillette
Staff Writer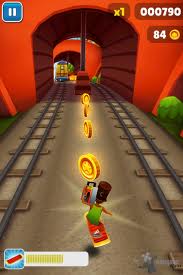 New apps have been floating around lately, Temple Run 2, Ruzzle, Snapchat, etc.  So many new apps keep popping up that it's very likely that apps will start to look very similar.
The app Subway Surfers, a popular free gaming app, is one of these apps. and the point of it is to run along the subway, and not get hit by a train, or any other roadblocks along while you collect coins to get a higher score.
Sound familiar? That's because it bears very strong resemblance to the popular app Temple Run, where the point is to run along a path and not let creepy creatures catch you, or run into any other roadblocks, as you collect coins to get a higher score.
Sophomore Aaron Tang, who likes the app, rating it an  out of 10, admits that "It's like temple run because you have to get the highest score, but instead of the monkeys its a subway where things are coming towards you."
Sophomore Gabriel Mussleman, who would only rate it a 6 out of 10, say's "I think it's all hype, its not that great of an app. It's not even that fun."
While there are some neat apps out there, it is likely that this one is a passing fad, and will fade into oblivion, as many others have done in the past (think Tap Tap).
The question remains, what is the point of these new apps? Are any of them even worth downloading? And are the so low on ideas that apps are being created that are just variations on a theme?
Download the app Subway Surfers and decide for yourself.