by Tamir Harper
Staff Writer
Which teachers are leaving SLA at the end of the year?
When asked, students at SLA predicted all kinds of teachers as moving on, from veterans like English Teacher Matt Kay to newcomers like History Teacher Dan Symonds. (In fact, both of those teachers are sticking around for next year.)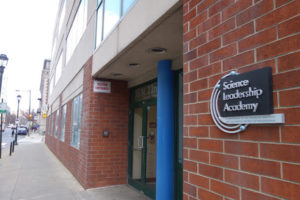 While many students don't know which teachers are going,  Principal Chris Lehmann and staff have begun interviewing for four vacancies that need to be filled. Three will fill the positions of teachers leaving and one new position is opening up to assist the Career and Technical Education (CTE) department.
Since not all teachers are public about their resignations yet, Mr.  Lehmann could not release all of the information in order to respect of the teachers and because the teachers have not yet notified their respective advisories. But for those who have already told their advisories, we wanted to find out more information on why.
After eight years, Digital Video and Photography teacher Douglas Herman is moving on from SLA . Mr. Herman is leaving to "give 100 percent to Rough Cut Media endeavors", according to Technology Coordinator Marcie Hull. But Herman will still be part of the SLA community, Hull shared that Herman will continue to work with the school so that "the school continues to have one of the number one student led production sites in the district."
Herman shared details about his departure to SLA Media. Herman received a big offer in November to work at a school in Los Angeles as a Director for their Digital Video program, but decided to not accept that position because "developing a program there wouldn't change the inequity we see in our society in terms of access to media creation tools. The only reason I am leaving SLA is to attack this inequity by expanding the reach Rough Cut currently has in Philly."
Spanish Teacher, Melanie Manuel will be leaving after being at SLA for 9 years.
One teacher that is not public is stated that he/she is "moving to another state."
For filling the vacancies, Technology Teacher and Hiring Committee Member, Marice Hull stated that interviews are going smooth but stated that once someone accepts they will stop interviewing for the vacancies. When asked about when the new hire will be announced she stated "when Lehmann want's to announce who's been hired."
*SLA Media will keep you updated with the latest news of the new hires as soon as we find out.