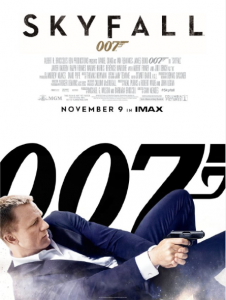 By Jacob Lotkowski
Staff Writer
The 23rd installment of the James Bond franchise, Skyfall, opened in the US on November 9th with earnings in the 200 millions. According to Yahoo Movies, Skyfall "…shattered the record for the biggest Bond movie opening ever with nearly $88 million for the weekend."
The film stars Daniel Craig as James Bond and Javier Bardem as his flamboyant antagonist, Raoul Silva. Craig works with Judi Drench–who plays M, his commanding officer, and Naomie Harris–as a field agent that works closely with Bond.
In case you haven't seen it yet, the official plot summary, provided by Sony, is as follows: "Bond's loyalty to M is tested as her past comes back to haunt her. As MI6 comes under attack, 007 must track down and destroy the threat, no matter how personal the cost."
Since the movie is based on personal conflicts with a villain, rather than an international crisis, you feel much more connected to the characters' stake in the film and that they remain unharmed. It is an interesting dynamic that make some think this is the best Bond movie to date.
The film's director Sam Mendes felt that critics doubted what he could bring to the franchise, as he told Dave Calhoun of Timeout.com. Mendes started the direction of the film "With…one small element…and abandoned everything else." He then went on to say that he didn't want to read about others opinions of what a Bond film should be, because it would affect his personal opinions towards the film he was put in charge to direct.
Mendes wanted his Bond movie to be one done with special effects, not visual effects. This meant he relied very little on computer animation to create the explosions and action sequences. This is one of the reasons the budget of the film was one of the costliest in franchise history. In addition, the production crew went through a handful of Audis and Land Rovers Defenders shooting the opening scene.
Another thing that this film was praised for was the costume design–done by Jany Temime.
During her first meeting with Craig, she said "Daniel told me what he wanted: a slim fit suit tailored very near the body… Daniel wanted a suit you could forget—a suit that wasn't on top of his body, butmoving with his body." In regards to the character Silva, Temime wanted to "…give him a costume that will help him create that villain. In a way, he has to be as powerful as Bond."
Temime was drawn to a Prada shirt that she designed Silva's costume around, "I was addicted to the Prada shirt, because it had just the right level of lightness and expensiveness. I'm not going to call it "bad taste"—the graphic of that shirt is beautiful—but it's not Bond; a gentleman wouldn't wear that. I did the entire costume around that shirt."
With the help of Sam Mendes, Daniel Craig was able to earn the recognition of movie critics forever, as a worthwhile 007. Skyfall has proven itself to be a must-see for any Bond or espionage fan. Skyfall is rumored to be released on DVD/BluRay March 13, 2013–and is available for pre-order on Amazon.com for $19.99, and $27.99 for Bluray.