Maddi Extebeste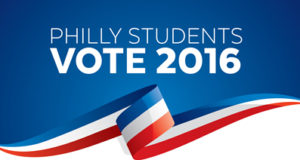 Staff Writer
While the real general elections were happening this past fall, the Free Library of Philadelphia offered the opportunity to high school and middle school students to participate in a school citywide program called "Philly Students Vote." It allows them to vote for their favorite candidate for president.
SLA won the first prize for being the school with the highest percentage of voter turnout, with 59% of registered students voting. As a prize, the school will receive $1,000 to spend on a project that the student organizers provide.
The contest worked like the regular elections. Students had to register to vote in advance, and then on the Election Day vote. The voter registration ended at 5:00 P.M. on Tuesday, November 1st. Then at 7:00 A.M on  next Tuesday, November 8th, the Election Day, every student registered received an email invitation so they could vote online until 8:00 P.M.
SLA  participated with the new History teacher Daniel Symonds as the teacher sponsor, and each History teacher picked one student from each stream to become student organizers, who called themselves "ward leaders."
The FLP announced the results of popular vote when schools finished counting and sending their votes, a few hours after the polls got closed.
"This program is a way to help students understand how voting important is and how does it work," Mr. Symonds explained. "It makes them be more engaged in politics."
Freshman and Student Organizer Zeniah Navas agreed. "It allows us to have ideas on how to change the world. It also allows students to feel that they're changing the world and that have something to say about what is happening."
Mr. Symonds said they might spend the $1000 prize money on a charity event to raise more money, which could be given to charities, because they want SLA to look further, outside the school. The FLP also provided $50 for a pizza party for the whole team.
So how did students vote at SLA? Here are the results:
Democratic: 84% (218 votes)

Republican: 6%  (16 votes)

Green: 3% (9 votes)

Libertarian 3% (8 votes)

Ken Bone (Write-in): 2% (4 votes)

Constitution Party: 0% (1 vote)

The real grandmaster jay (Write-in): 0% (1 vote)

Jen Bowles (Write-in): 0% (1 vote)
"SLA is majorly Democratic and when we found out the results, many of us were happy with them," said Navas. "I was especially happy because I, myself, voted for Mrs. Clinton."
Another student organizer, the sophomore Afi Koffi, also said she was not surprised at all, and added: "Even in the real election, the rankings were similar, based on the popular vote."
The high participation of the students also shows that students want also to be heard, and this program gave them this opportunity "to show how their voice effects the world", said Koffi. It makes people think about how different could have been the results in the official elections if high school students countrywide could have vote.
"I am very pleased with our voter turnout because we, the ward leaders, worked so hard to make it so," she said. "I witnessed students who weren't ward leaders send reminders to their peers via social media. It's things like this that make SLA so great. The feeling of community, collaboration, and duty are what gave us the win."