Aaron Watson-Sharer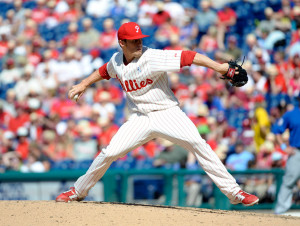 The Phillies are in their rebuilding stage, where we currently are representing the motto "Out with the old and in with the new."
That has been the case. The first trade the Phillies made was the Jimmy Rollins trade, where the Phillies sent Rollins to the Los Angeles Dodgers and acquired pitchers Tom Windle and Zach Eflin in return. Then with the trade of the season perhaps, where Cole Hamels and Jake Diekman were flown to the Texas Rangers in return for five prospects and a pitcher. Jerad Eickhoff, the first player from the trade to play in the majors has been nothing short of dominant.
Ben Revere, despite being a young player, was flipped to the Toronto Blue Jays and the Phillies received even more talent. The infamous $50 million dollar man, Jonathan Papelbon was traded and his reputation in the league has decreased since. Lastly, this past week the Phillies declined Cliff Lee's $27.5 million option. Another veteran from the glory days who is going to have to find a new team.
The Phillies can only dream of tossing the contracts of Carlos Ruiz and Ryan Howard, but luckily they have one guy who can make an impact for them in the near and distant future, Ken Giles who would have tremendous value.
Ken Giles, 25, has been with the Phillies for two seasons and he has been one of the few guys that fans can justifiably cheer for. He was never a top prospect, but he blossomed into a legitimate closer for the Phillies after the trade of former closer Jonathan Papelbon.
Ken Giles has three pitches, a nasty slider which clocks in the high 80's, a changeup in the mid 80's and also a scary fastball that has tops out around 101 mph. Any fastball that fast is elite and very few pitchers have the ability to do this.
His most valuable pitch may be his slider, which has made him very hard to figure out. His slider has the movement of a 12-6 curveball and a splitter along with a slider. When pitchers can throw offspeed pitches like this they can be amongst the game's finest.
His stats make him sound like our new Brad Lidge, or the world series winning closer of 2008, but he has struggled. He had 20 save opportunities this year and blew five saves. Those are not quality numbers. Elite closers blow far less than five when they've had 50 opportunities. Giles possesses a 9-4 record with a 1.56 earned run average (ERA), a 1.037 walks and hits per innings pitched rate (WHIP). His fielding independent pitching (FIP) raised this year to 2.13 raised from his 2014 1.34 FIP . This is a statistic that records pitching consistency where you won't walk batters, give up home runs and your ability to strike a batter out.
His most valuable trait may be his ability to strike batters out. He has struck out 11.7 batters over nine innings in his career which puts him nearly the league's best. A personal favorite is that he has faced 464 batters and only three have hit a homerun on him. This number proves that it's hard to compete with Ken Giles.
Teams are looking for a guy like this. The most valuable asset in baseball is young and controllable talent. At 25 he is set to make near the league's minimum for 2016, teams will send some offers that will have to be considered. Ken Giles also is not eligible for arbitration until 2018. Most teams would see him as a closer who can push them through october.
Plenty of teams could make a play at Ken Giles. A stacked bullpen wins, the Royals proved that. The most likely candidate would be Boston. They have the need and talent to acquire him. Two trades to look back to for the value of Ken Giles are the Andrew Bailey and Craig Kimbrel trades. These are great blueprints to what we could get.
With the talent and youth of Ken Giles, the closing experience and his consistency the potential return for him is too great to pass up. The Phillies could easily score a top 50 prospect for his services along with others. The Phillies shouldn't waste his prime closing for a losing team. He won't have enough opportunities to shine with the Phillies. This team is in full rebuild and a trading Giles will make us greater in the long run.