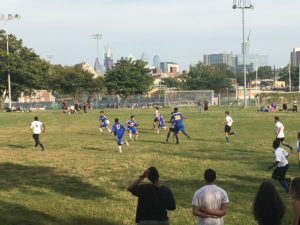 Saamir Baker
Staff Writer
The heat settles into the bleachers and the soccer field, as the SLA men's soccer team gathers in a huddle before their game versus Benjamin Franklin High school.  In preparation, co-captain Jori Gervani gave a heartfelt speech that he gives before every game."
Listen up, I want to see 100% passes, 100% effort and we're gonna go out there as a TEAM. Most of all we're gonna go out there and have fun and play the game we love." "Team on 3!" The team is energized, and the team storms of the field, hungry for their first victory.
On Wednesday, September 15th, the SLA men's  soccer team won their first game in a blowout 15-0 against Benjamin Franklin High School. Coach Mark Johnson, who is new this year as SLA's soccer coach, helped guide the team to victory. This was their first win of the season after losing their first two games., respectively. This win provided the boys with the confidence they needed to take on this season.
"We just really needed this win to continue our season. We played some of the best teams in our division. "We needed this one to stay with the best, we needed this on to stay alive,"  said Jori Gervani.
"Ben Franklin may have not been the best team, but this game was a big confidence booster for all. Ben Franklin used to be better.  That team was clearly up to play, and they clearly were in the same situation as us and lost a lot of seniors. They even beat us 11-0 last year," said Junior William Figueiredo.
They all knew this season would prove to be a hard one. The Rockets had just lost 9 of their core players from last year, in an amazing season run that let them advance from C to B division that has left them fighting to stay in A division, the city's best division. As a result, they are facing  better teams than last year.
Though all odds are stacked against them with a new line-up of players ranging from a few  seniors all the way down to freshman, they've adjusted pretty we'll for not having a coach in school. Their mission is to hang with the best and enjoy hanging with the best. There are 7 games left in the season.