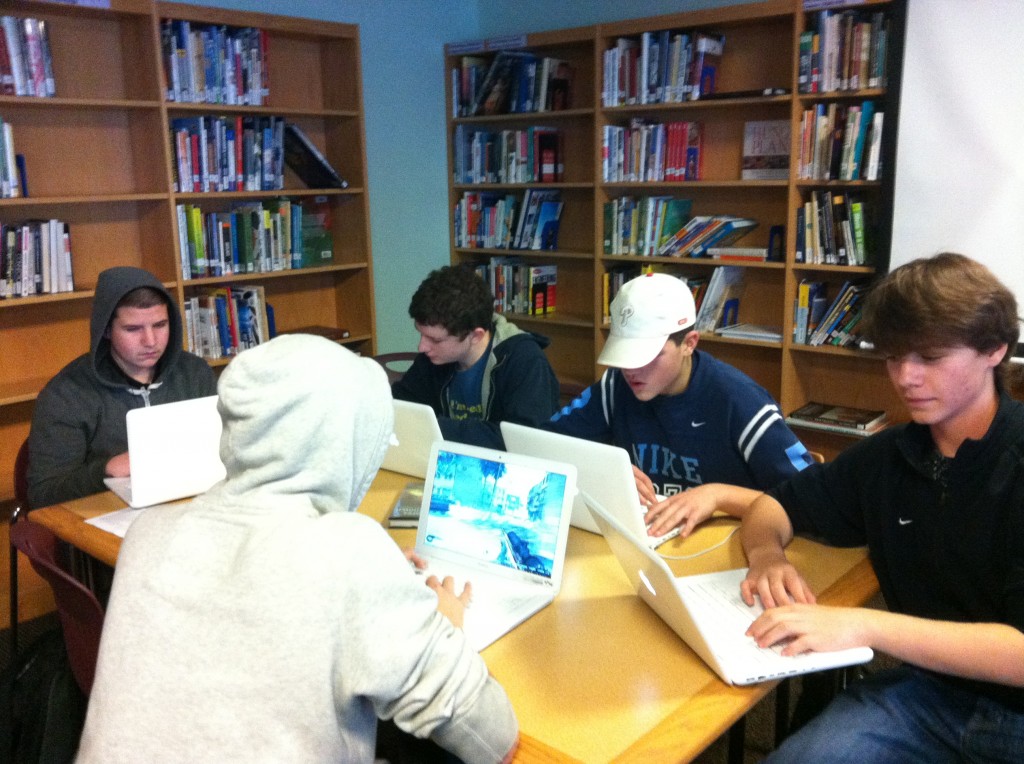 By Alex Ringgold
Staff Writer
As fall comes to a close, and all the big hit video games have been released for this season, it's time for gamers to decide what to buy and what to play, but more importantly, when to play them.
Because of the laptop program, student gamers at Science Leadership Academy are abundant, especially in the freshmen and sophomore grades.
For some students, however, this occupation can become an addition. Is gaming on a school laptop a problem or a privilege? Does a student gamer life impede school life?
Every day during lunch, a cluster of students sit together outside the office with open laptops, all available outlets occupied, and whoops and hollers made out occasionally to one another. They're all playing Call of Duty 4, a first-person shooter game set in modern era unlike its previous installments.
The objective of Call of Duty is simple: kill anyone that is not you. Sometimes it varies to team death match, where as you and a couple of teammates kill an opposing team, and which ever team gain a set number of kills wins.
For many students, this game is a great source of entertainment. Currently it's more popular with boys, although there are girl gamers racking up kills during school hours as well. During lunch, it's perfectly normal for a student to lollygag. But what about the other 23 hours of the day?
Some sophomores are confident that they are maintaining a healthy gamer life and school life.
"We play during lunch and sometimes over Wi-Fi when we're at home, but it doesn't get in the way of school work," Sophomore Jeffery Schwartz said. "Since last year after getting the game we've played at least 48 hours total."
This group of sophomores had a couple of variables that helped keep their gaming in check.
For one, only but one of them owned a console at home, leaving necessary time at home for homework.
They also enjoy Call of Duty mostly because it is a group activity, meaning they would not put gaming as a priority to work.
Not all students, however, are as responsible.
One sophomore, when asked if Call of Duty interferes with school worked, laughed as if it were obvious the amount of time he put into the game overlapped the amount of time he should be doing work.
"Does Call of Duty mess with school? Of course!"
The sophomore's choice of game at home was Skyrim on the Xbox, which is a game that has an average 140 hours of gameplay since it's release back in November.
For students like Sophomore Byshera Moore, who chooses not to get involved with video games, believing even spending a couple hours shooting people online seems crazy.
"Those guys during lunch are loud, crazy, and are clearly only paying attention to their game when they start playing."
For upperclassmen, more schoolwork may mean less time for games, and many of them have worked hard to regulate how much time they play.
Senior Anthony Torrance, known letting his gaming habits get in the way of his focus school, acknowledges the challenge of balancing his hobby with his work. "I have to limit certain outlets if I am going to succeed."
Senior Douglas Wallace used to partake in the children's card game Yu-Gi-Oh and spend hours playing video games.
"I used to be addicted to video games," he said.  "You know what I did? I got a life, I got a girlfriend, and I had fun."