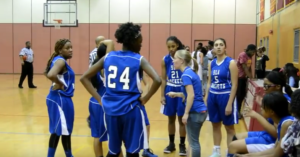 Benjamin Simon
Sports Editor
Three years ago, coach Erin Giorgio compiled one of the best girls' basketball teams in the Public League. After opening up the season 7-0, the Science Leadership Academy Rockets finished the regular season 9-3 and earned themselves a playoff appearance. A year later, while in the top division, the team went 7-7 in the regular season and ended the year on a 5-1 run.
But after losing multiple seniors and two transfers last year, the team struggled, ending the regular season with a 2-12 record. Following a tough season, there isn't a better time for coach Giorgio's harpings on team unity. This comes naturally for her, as she has been organizing, coaching, and playing sports for as long as she could remember–although her history is largely with a sport other than basketball.
"When I grew up, I recognized there were a lot of basketball teams out there," Giorgio said, who is a native of Long Island, New York. "When I started playing lacrosse, I really found that was more of my speed. And I was really disappointed that it wasn't available in my town. So when I was in 10th grade, I started a Police Athletic League [program] for girls' lacrosse in my town."
The experience taught Giorgio some of the resilience she shows in her work with the SLA girls' team.
"We initially didn't have enough girls for the first team," she explained. "We had a clinic of, I think, ten kids that first year, of kids who were going into third and fourth grade. And then the following year we had a couple teams. By the time I left for college, my dad took over managing the program and I think we had two teams per age group, so we had six teams."
Despite playing varsity basketball for two years in high school, where she was a defensive stopper, lacrosse was where coach Giorgio had the most success. She thrived, earning a spot on Yale's Division 1 women's lacrosse team. While she played pickup and intramural with her friends during college, she really didn't get back into basketball until she came to SLA, where she has built one of the public league's most successful programs in recent years.
The team began as a junior varsity team during her first year at the school and the next year, they advanced to the varsity level, but had trouble competing. It wasn't uncommon for them to lose by 65 or 70 points on a regular basis. But years of intensity and continued growth have helped to further advance the girls' basketball tradition at SLA.
"I think [the program] has gone in waves," Giorgio added. "When I first got here, kids were used to not showing up to practice regularly. It definitely took a couple years to get kids on board. When the class of 2015 came in [as freshmen], that was our first class where I had kids showing up on a consistent basis. It wasn't the only class…but that was the first time we had a more kids showing up regularly and really committing to playing basketball and not just being on the team. Then over the course of the years, we've built. And again, now as we've added Beeber the last couple years, it has been great being able to work with both campuses. Now as Beeber is in its fourth year we have a lot more kids interested in playing and our talent level has gone up."
One of the toughest parts has been installing the 6:30 AM practices every morning at Greenfield.
"When you practice every morning at 6:30, you're either in or out," she commented. "You're not going to show up at 6:30 if you don't really care about it. You're in or out and that's it. I'm sure we'd have some different players if practice was after school. But I like what we have and we have a really good, dedicated group of kids. And unlike other teams, we only have an hour and fifteen minutes everyday."
Early morning practices are all part of her message to the players about learning how to better themselves through sports.
"Building character through sport and having kids learn real life lessons through playing basketball [is important to me,]" she added. "I want them to recognize the transfer that basketball or sports has on other aspects of their life and the importance of having a growth mindset. When you make a mistake, don't shut down. Learn from your mistake and do better. [I like] having kids be able to take leadership positions in sports in a way that they oftentimes don't feel confident in the classroom. I think being a coach is a great opportunity to see kids excel in many different aspects of their life. So a kid I may teach in math class, that might not be their most confident area, but then all of a sudden I see them step onto the basketball court and I get to see them in a different light."
Junior guard Tia Roberts also commented on Giorgio's intensity and how she instills a lot of the principles she teaches.
"Ms. Giorgio is very aggressive and she has an [impactful] voice," said Roberts. "She makes you run a lot."
Junior forward Madison Harris agreed, adding to coach Giorgio's pet peeves.
"She focuses on hustling," said Harris. "It really bothers her if we don't run back. If we miss a lot of layups at a time, that bothers her. [Bad] attitudes bother her too."
However, this year, the early morning practices are more important than ever. With no seniors and only two returning starters, the team will be youthful. In preparation for their first game, coach Giorgio and her coaching staff of Wynetta Ward, the mother of Phoenix and Nile Ward, and tech room worker, SJ, who previously coached girls basketball at Indiana University of Pennsylvania, are working tirelessly for one hour and fifteen minutes everyday to help get the team ready.
"We dropped down a league from last year, and I think that if we play up to our potential, we should be leading this league," Giorgio said. "And I'm hopeful that's what we do. Then when we go into playoffs, we play against the teams from the higher league and show them how much we've grown as a team."
After last year, Roberts has higher expectations for the team as a collective unit.
"I want everyone to flow better and be able to work together throughout the whole season," Roberts said. "We have some good people and some people that require more improvement and I feel like we can't just single out people who need improvement. We all need to find a medium where we all communicate and work together."
Giorgio's tone is noticeably echoed by captains Roberts and Alexis Perkins. Roberts is a defensive specialist and a really good motivator. She is an extension of Ms. Giorgio on the court. Similar to Roberts, Perkins is an extremely hard worker with raw basketball talent, who "does a great job of finding the open lane," according to Giorgio
A young player with extreme athleticism, Karrine Tucker is another major piece coming back this season. As one of the two returning starters, she has legit college basketball potential and will be relied on for lots of scoring and steals this season.
"She has so much potential," Roberts said of Tucker. "If she puts her mind to it, she can definitely dominate this season."
Harris added another player that feels like could play a big role this season.
"I have big expectations for Diamond [Wallace]," said Harris. "She is a freshman. She is really good, but she likes to make sure people don't look bad while they're playing. She tries to make sure everything is perfect. She can't do that; someone is going to mess up. But overall, I think she's a good player and her head is in the right place."
Harris will also play a major role on team. After not playing much her freshman season, Harris emerged as the sixth man last year as an attacking and rebounding big. Although they are in good hands, the team is still trying to establish a starting point that will push them to the next level. But that's all part of the process.
"The team is much younger," Giorgio said. "I think, in some weird ways, we're faster and taller…I think we're really quick. I think defensively, putting on some pressure, we can end up with a lot of steals. We'll play some really aggressive defense up and down the court."
The Rockets open up their season this Friday at Math, Civics & Sciences.
Photo courtesy of Jesse Shuter