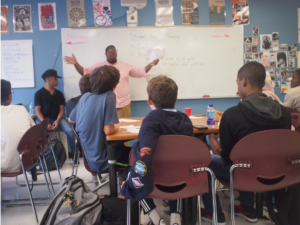 Sara Frunzi
Photo Editor
On Thursday, September 14th, SLA had its first official 2017-2018 student government planning meeting. SLA students will have the opportunity to run for a student government position, or just to vote for a representative. SLA students will finally have a say in how they are represented, and hopefully will have changes made in our school for the better.
According to Science Leadership Academy Junior Kwan Hopkins, who called the meeting, A student government is something that the school really need.
"It's one thing to say 'I feel your pain students.' It's one thing to listen to a presentation the teachers are giving," Hopkins said. But it's another things to say 'students, come to the table'".
Hopkins came up with the idea for a student government and went through talking to History Teacher Dan Symonds to officiate it.
"I was student body president before," at his old school, Hopkins explained. "We did a lot, but we didn't get to do everything. I really just wanted another chance  to share what I believe are talents, to talk about what I believe think are the issues, and I saw a lot wrong with the school".
Mr. Symonds supports the process.
"Any activity that increases students engaging in democratic decision-making, any activity that raises expectations for what students can expect of themselves and of a political entity in the school is a good thing".
The meeting on September 14 revealed some ideas of a purpose and function for a future government. Among other things said, some purposes mentioned were to get student representation, and more communication between the students and adults in our school. The student government not only wants to ensure that every student in the building will have their voice heard, but also to go above and beyond with being unique to SLA.
The understanding across the board at the meeting was that an organization at SLA would not simply do what other school governments do, such as plan dances and fundraisers, but also address what SLA directly needs. Right now, that may be in alignment with fundraisers or with the Spirit Committee. The idea of an SLA student jury was also put forth, so that an unbiased group of students would be able to have a say in school decisions and possibly disciplinary action of peers if deemed necessary. Students felt that sometimes punishments were too harsh or deemed unfairly, and that they wished to be able to do something about it.
Going forward, SLA's student government has big plans. The function of an SLA student government was debated upon a bit, but boiled down to a few core things. There were three main priorities discussed: students having thorough involvement in our education, a student government running student activities, and finding ways to help build connections within SLA.
The student government aims to create a formal space where teachers and students are equals, and to give students the chance to share their ideas and pass legislation.
Students will be able to start running for positions this October, and should talk to their advisors about the nomination process to become a candidate.