By Jenn Wright
Staff Writer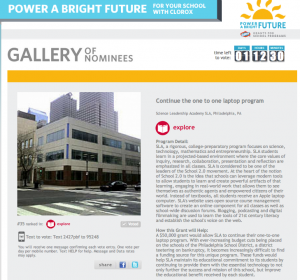 SLA currently stands in 35th place in the "Clorox Power Bright Future: Grants for School Programs" with just over a day left to vote.
The contest gives away 7 grants to aid school programs.
Over a five-week voting period teachers, parents and students watched SLA rise in the popular vote contest for the chance to win $50,000 to fund freshman laptops.
Voting online and through text message, Principal Lehmann made daily announcements over the PA system instructing students and teachers, "It's that time again! Everybody take out your cell phone."
SLA is entered in the Explore category with the other two categories being Create and Play. The program with the most popular vote overall wins the $50,000, while the popular winner in each category wins $25,000. Further, the judge's panel at Clorox will pick an exemplary program from each category to win a $25,000 prize.
This is not the first time SLA has entered into contest for the chance to win big prize money. Fundraising efforts to continue the laptop program are a struggle every year.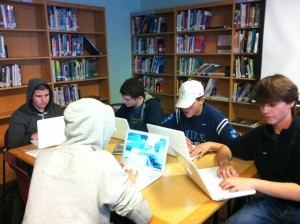 Last school year, Principal Lehmann was voted a semi-finalist in the "2012 Elizabeth Rohatyn Prize for Schools Where Teaching Matters" where a school is awarded a one-time prize of $15,000.
The voting in the "Clorox Power Bright Future" contest ends on December 19, 2012 and the winners will be notified in January 2013.
Vote for nominees in the Power Bright Future contest here