Lauren Nicolella
Staff Writer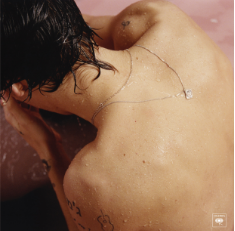 Harry Styles released a self-titled album on May 12th that's made its way up high on the iTunes charts right after being released. It contains 10 tracks, each telling its own story while introducing a more rock sound into mainstream music.
Admittedly, this is a bit of a biased review because I am an ongoing fan of One Direction. I am here to support each individual's solo career and music because they are truly my favorite band of all time.
Those who did not previously enjoy Harry while he was singing in One Direction found themselves listening to his solo album and thoroughly enjoying certain songs. Sophomore Lucien Hearn had those exact feelings, "The vocals really shine through even though I haven't liked them in previous years."
The beginning of this song is mellow, with very soft and almost gloomy vocals that lead into a louder chorus. There is something about the first 20 seconds of the song that makes me feel so pleasant and want to look out of a car window dramatically. I can't picture another song to open up the album because it is the perfect sound in preparation for the upcoming tracks that portray different styles.
I already did a review of this song on SLA media, check it out here!
My only words I have to say about this song: what a bop. After having slower and sadder songs to begin with, Carolina is the perfect upbeat song to sing and dance to. An interesting story is being told, about a girl who moved to the west coast after living in Carolina. Every time it comes on shuffle, I want to get up and shout out the lyrics because the chorus is so fun and catchy.
I imagined this to be a super sad song based on the title, but instead it sounds a bit more upbeat. Although, the lyrics talk about how two people, who were possibly friends or in a relationship, are "not who they used to be", making listeners face the reality that they can relate to what is being sung.
When I first heard this song, I did not like it. I don't know what I had against it because after listening to it a few more times it eventually grew on me. It is a very sweet song, it makes me want to drink lemonade on a nice summer day while sitting on a porch or something.
The beginning of this song has an incredible gospel harmony, mixing in the piano from Sign of the Times. It sounds like you are floating up to heaven, ready to enter the gates. Then suddenly it stops and rock music intrudes. Harry screams a "hey, hey!" grabbing my attention instantly, and that's when I claimed this to be my favorite song off of this album. To have that buildup and have the song completely change was super unexpected, but also the greatest thing ever. I imagine this to be a song that Harry opens his concert with, or hopefully mixes it into his performance of Sign of the Times.
I was hoping that Harry would make a song like this and I am completely satisfied with it. When I previously mentioned how Harry is bringing rock back into mainstream music this is exactly the song I am talking about that is doing so. When you have a line like "I'm having your baby, it's none of your business" how can you not be intrigued to take a quick listen? I love listening to older rock songs and imagine that I am magically able to play the guitar, which is exactly what I do with this song because I get those old rock sounds.
I heard this song when Harry performed on Saturday Night Live a few weeks before his album was released and I could not stop watching. I do prefer it live rather than the studio version. The chorus is insanely catchy with its repetitive "Oh, tell me something I don't already know". Seeing Harry play the guitar made me want to scream (in a good way, of course), because he is truly becoming a rock legend whether people like it or not.
One thing I noticed about this album by the time I reached the eighth track: there are some great bass lines throughout these songs. This was one of those songs where I could hear the heavy rock influence, because the guitar solo at the end had me feeling major Pink Floyd vibes. There is a sound made by Harry that replicates the quacking of a duck, and I absolutely love it; it makes the song a bit more unique, in my opinion.
If you have access to headphones, I am asking you to please wear them while listening to this song. It sounds like Harry is right at your ear. This slow song sadly ends the album, explaining how "comfortable silence is overrated". The harmonies and very light strums of an acoustic guitar set the perfect tone for a dramatic rainy day scene.
Overall Album Rating: 9/10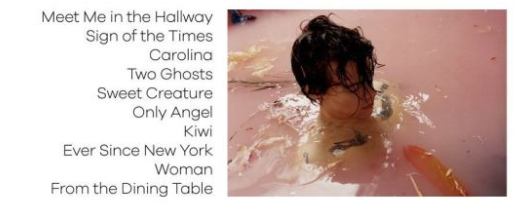 I strongly encourage everyone to take a listen to this album, Harry should not be ignored since he is apart of a boyband. He was talented while being in One Direction, and is pursuing his own personal music taste, still having a large amount of talent. Sophomore Meymey Seng expressed her feelings towards that statement. "I hope that people will gain an appreciation for his voice when One Direction comes off of their hiatus and start producing new songs, because it is still his voice no matter what the song is."