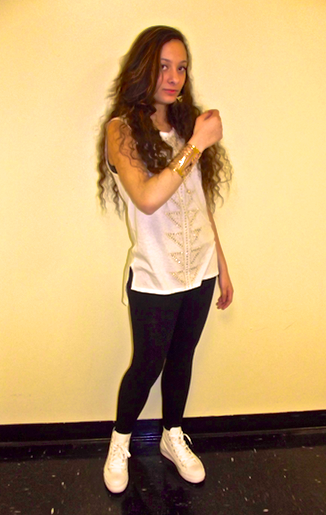 Would you consider yourself fashionable, to stand out fashion-wise amongst the students at SLA?
I believe I am.
Do you know which each item is from? If so name the places you got it from. 
Well, I brought that shirt from Forever 21. I think it was 17 or 18 dollars. The leggings were H&M, and the shoes were Forever 21.
That cuff is really interesting. Where did you get it from? Why did you choose to pair it with your outfit?
I think forever 21. My mom bought it for me, so I'm unsure. I wore it with that particluar outfit because for one, all my other my jewelry was gold, and to match the shirt. Second, since the shirt had an interesting pattern, and the bracelet does too, I choose to wear it. Last, it's one of the only gold bracelets I have.
Who is your fashion icon that you get inspiration from?
Wow, that's a hard one. I like a lot of different people's style. Lady Gaga's is nice, because it's different, although I wouldn't wear any of the crazy stuff she does. Kim Kardashian style is nice too. Audrey Hepburn's style really was interesting, she wore stuff that complemented her slim build. Basically, I just look at fashion magazines or stores ads and see how they wear it, and see how I can pull it off, or modify it myself.
Where do you find inspiration?
I find inspiration mostly in colors, the way things fit, and if things look cheap or not. I love shopping for super inexpensive clothes, but if it looks cheap, I won't buy it. Also, color schemes matter. To many colors looks a mess, and to little looks boring. I like to match certain colors with others that complement it. Also if I find a good shirt in a store, I'll think, "What can I wear with this?" If I don't have anything, I won't buy it.
Where do you usually shop?
Mostly H&M and Forever 21; they're cheap, but have nice clothes.